Roll up door Spring Yonkers
If you know how the roll up gates in Yonkers operate, and you understand the mechanism of the rolling gates, you know that the spring is probably the most important thing for a gate to work safely and easily. There are few common reasons which can prevent a roll up door in Yonkers from working properly. And one of these reasons, and which we will go over in this post, is a busted rolling gate spring. In most events of a stuck rolling gate, the person who try to operate the roll up door, find that it is almost impossible to open up the gate. The next thing the store owners do is to go and buy some grease, assuming that greasing the tracks and the rolling gate is going to solve all problems. The thing is that using grease to try and make a roll up door with a busted spring work, is like trying to make a vehicle with no wheels to drive smoothly buy pressing the gas harder. It just won't make vehicle work. If the spring broke, you will need a gate specialist in Yonkers to help you.
The next thing a person who can't operate a commercial gate does is to search for a contractor in Yonkers who offer commercial roll up door services Yonkers. Usually when we get a call from a business owner, and he is being asked what is wrong with the roll up door, he answer that he need a specialist for commercial gates to service the stuck rolling gate, since it is impossible to open it. When our technician arrive, he usually find many times that someone tried to repair the gate by pouring a large amount of grease on the tracks and the slats, or by trying repeatedly to open the electric motor (In case there is one), and it usually end with no success. The reason is that there is one solution to a roll down door with a busted spring, and it doesn't matter if it is a roll up door in Yonkers, or busted garage door in Bronx, there is a need for a new spring, and there is a need for an expert to make the exchange.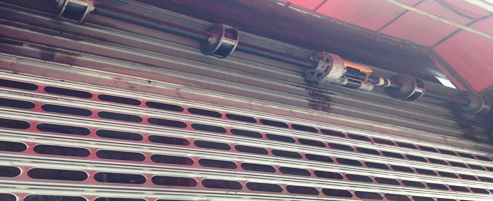 Roll up door spring Replacement Yonkers
When the spring is completely broken, there are two ways to deal with the problem: The one we would recommend is to replace the spring with a new custom made spring. The second, which we consider only as temporary repair and usually doesn't last for long, and that can even be considered unsafe, will be to fix the busted spring. And here might be the right time to declare something about a busted roll up door: the same as garage door, using a roll up door from any kind when the spring is busted is dangerous, and should be fixed by a qualified tech.
You need to understand one thing about the commercial roll up doors and overhead doors: Even if it is opener-driven roll up door, what makes it easy to open up and close the gate is not the electric motor, but the spring which the gate is connected to. When the spring break, the motor need to replace it in opening the gate, and this is something dangerous. It can be a busted torsion roll up door in Yonkers, or commercial overhead garage door, when the spring is broken, the gate is off tracks, or anything else that prevent the roll up door from working safely, it should not be used until a pro will make sure it is safe to open up and close the gate.
What to do when the gate get stuck?
Before you go and try to "force" the roll up door to open up or to close, first you need to make sure that the reason the gate is not moving and can't be opened is in fact a problem with the spring and not a problem from a different kind. In case the spring is busted, you will need to hire a local gate company in Yonkers who specialize in commercial roll up doors. On of those companies in Yonkers is Vernon's Garage Doors, which offer emergency roll up doors services near Yonkers.
If you will choose to ignore the fact that there is something wrong with the rolling gate, the gate will get stuck in a way that will prevent you from using it. In the worst cases the gate can collapse, since the tension of the spring that hold the gate in place does not exist anymore. In that case you will need emergency rolling door repair, and since the springs are made for a specific gate, you will need to wait for us to return and replace the broken spring with a new one.
Where to buy a rolling gate spring?
The springs of the roll up doors is not something you can simply go to the local hardware store and get them, or even go online and find a rolling gate supplier in New York. Each roll up door in Yonkers require its own size of spring. It can be torsion spring or push up spring, the springs are created for a specific gate! The steel spring which will fit a roll up door in Yonkers, might not be the right spring for a roll up door in Dobbs Ferry. A qualified roll up door technician have the ability to measure the gate in a way that will make sure that the right spring will be manufactured for the gate. Using the wrong spring can end with 2 things: It will not make the gate operable again, and second: It will be dangerous to use the gate.
Can I install commercial spring myself?
Unless you are a qualified roll up door expert, you should not try and replace the busted spring by yourself. It is dangerous and unsafe. Assuming that you were able to purchase the right spring for the roll up door (Close to impossible in case you have no previous knowledge about roll up doors in Yonkers, since just to measure the gate require knowledge) replacing commercial roll up door spring can be risky. There are heavy duty gates in NYC, and there are parts that can be dangerous. Just think about a commercial gate with a busted spring, the tension of the spring is enormous, and misuse of the spring can lead to serious injuries.
What you need for spring replacement:
You need tools for the replacement.
You need part for the replacement.
You need knowledge for the replacement.
You need the spring for the gate.
You need to be able to handle commercial gates.
For most rolling gates you need a tall ladder.
You need to be qualified and experienced.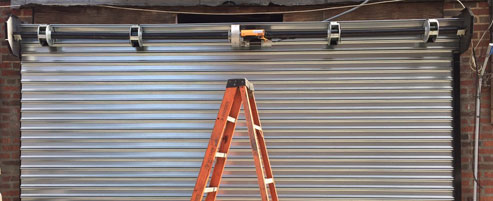 Which spring?
If you own a storefront gate, a warehouse or industrial space in Yonkers, and the roll up door is stuck since the spring broke, it is most likely that your roll up door is equipped with one of the two: Torsion spring, or push up gate spring (drums). Usually the torsion springs are installed over the heavy duty gates, which are being operated multiple times every day. The other type of spring are install on the smaller gates, which are not being used many times. For example: If you own a shop with a rollup gate near Yonkers, that you open once a day, you do not need a heavy duty torsion spring, but if you own a commercial heavy duty roll up door, which is being used multiple times every day, or a parking roll down gate in Brooklyn, torsion spring might become a must.
Can the gate still be operated?
Yes, although the spring is broken or weak, it might still be able to open the gate. But, know that using a rolling gate with a broken spring is unsafe. And that rolling gate with a broken spring will eventually lead to a broken operator as well. Not to mention the risk you are taking when you are using a gate with a broken gate. The best thing you can do is to contact a gate serviceman who service Yonkers to come and fix the roll up door and replace the spring, so the gate will be safe for use again.
It might look simple to go on and use the gate although the spring is broken, thinking that you only use the gate once in a while, so why should you invest time and money in replacing the spring. But here come the critical issue: Many business owners in Yonkers wait and delay the repair until it is too late, and until the gate is completely stuck. Now when the gate is stuck few things can happen:
You will not be able to open the gate.
You will need emergency service.
The repair will take longer and cost more.
It might lead to bigger issues and a busted motor.
The gate will become extremely dangerous, and using it will be risky.
Vernon's Garage Doors, Yonkers NY
Vernon's Garage Doors service commercial gates and overhead garage doors in Yonkers, Mt Vernon, Westchester County and more. You might be in need for garage door repair in Scarsdale, or for emergency gate repair in New York, Vernon's Garage Doors will be there for you. Servicing roll up doors in Yonkers is what we do, and we like to think that we do it best. With our same day service, and since we have the ability to repair most gate issues on the spot, we will be there for you today. Need the service right now? We are here to help. We are ready to service in type of roll up door in Yonkers: From garage door repair service in Dobbs Ferry, to roll down gate in Mount Vernon, to garage door installment in Eastchester, , Vernon's Garage Doors are here for you. Get in touch with us for same day service. We can service any type of roll up door: It can be a commercial rolling gate, or storefront roll down door, get in touch with us for same day service.
For Rolling Gate Service Yonkers NY
Call: 914-205-6141