Emergency Gate repair Yonkers
Broken, stuck or off tracks gate, especially the storefront roll down gates, can never get stuck in a good time. It usually occurring when the gate is closed and can't be opened, or when the gate is open and can't be closed and be secured. You can find a roll down gate for a store entrance in Yonkers NYC, an industrial warehouse gate, storage unit roll down door, and more. The problem with gates is that it can work with absolutely no problems for many years, and then suddenly to stop working and get stuck. Gates can stop working from different reasons: it can a spring that broke or came lose, a gate operator that can't open the gate no more, or a gate that went off tracks. And Vernon's Garage Doors can service all gates in Yonkers NY. Emergency gate repairs is something that Vernon's Garage Doors provide on a daily base while servicing overhead doors and roll down gates. It can be a gate that went off tracks, or ASAP gate repairs for a gate that keep getting stuck, with our ASAP gate repair service, no gate in Yonkers will remain broken for long. Since there is no "perfect" or "right" timing for a gate to get stuck, you may need the services of a gate expert on different days and different hours. The roll down gate can get stuck late at night before you lock your store, or it can get stuck in the morning when you want to open the shop and start the day. But there is no need to worry, we are here for you. Any time, any day. Vernon's Garage Doors is ready for any task of gate repair, storefront gate or steel roll down door, we are here for you. With skilled and qualified technicians, who have performed a numerous amount of gate repairs in Yonkers NY, we can fix your broken garage door or broken gate today. Just give us a call, and one of our experts will be on the way to get your gate moving again.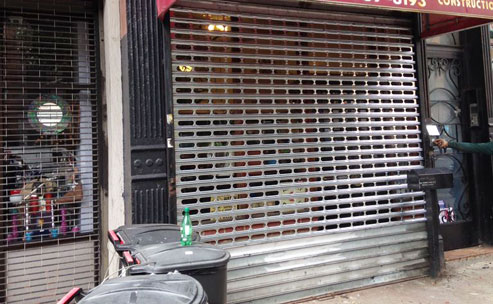 Gate Repairs Yonkers
Vernon's Garage Doors repair all sorts of gates: from broken "push to open" gate, to broken roll down gate, we can deal with any task, industrial or residential. Nearly all of the gate repairs in Yonkers performed by us can be completed on the first visit, since we carry with us parts and equipment that allow us to fix any gate on the spot. Whether it is an ASAP gate repair in Yonkers, or a roll down gate repair, with our ASAP service we will probably repair it today. Yet not all times the repair can be done right away. At times there is a need to provide the client with a temporary gate repair, which mean we will close and secure the gate, or open it (Depend on the customer's demands), and we will measure the gate, and order the materials. It can be a push up torsion spring, or a torsion spring for a roll down gate in Yonkers, we can service all of them today.
The thing with ASAP gate services in Yonkers the fact you need to have a team of experts ready for different type of tasks, and sometime a single team of experts is not enough. During servicing gates in Yonkers, and on the cold snowy days, we get quite a few ASAP calls from clients who can't close their shop and go home. However they know they can trust our company to be there for them any time and any day. It can be a swing gate that need a new operator, or a storefront gate, our experts are ready to come and assist you. We fix broken gates on the spot, and if we can't complete the repair on first visit, we will return and complete the repair, many times on the same day.
Off tracks gate repair Yonkers
There are tons of potential reasons behind a gate that went out of its tracks. It can be off track gate in Yonkers, off track garage door in Bronx NY, or storefront repair gate in Queens, And out of tracks gate is not safe for opening and closing, and require ASAP gate repair service. Nevertheless out of tracks gate is not the only reason for ASAP gate repairs: Emergency gate repairs can happen for various reasons. And one of the most frequent of all of them is a gate that got hit by a car or truck. You must understand the way roll up gates in Yonkers work, to be able to be able to understand much better why a gate that was hit by a car or truck, and usually go off tracks can be risky. The way the roll down gates (Sometime called roll up doors or roll up gates) work, is with slats, which run inside the tracks when the gate is moving. It doesn't have to be an automatic gate, and it can be a simple, manual operated broken push up gate repair in Yonkers, any broken gate that went off its tracks, should not be operated, and you shouldn't even make an effort to do so. When the gate is off tracks, using the gate is simply unsafe, and can end with accidents.
Using a gate which isn't 100% safe for operating is dangerous. You might assume that if you will just give the gate a little push and help it open, it may solve the problem, but if you will insist to do that, you will put yourself at risk. With our same day ASAP services in Yonkers, we will make your broken gate working again today, and more important, it will be safe to operate again.
Emergency Industrial Gate repair Yonkers
The industrial roll down gate, or the store entrance door, might be the central entrance to your store, your industrial storage place, the bar you own, or even to the building where you live. In this paragraph we are going to concentrate on the industrial roll down steel doors. If you arrived to your store in the morning, removed the locks from the gate, and attempted to open the industrial gate (Manually or even electrically), however the gate didn't open, you might need ASAP industrial gate repair. And if you are reading through our post, you were probably thinking: Who provide ASAP gate repair repairs in Yonkers? And the answer is Vernon's Garage Doors that offer ASAP repair for a broken roll down gate in NY within one to two hrs. So if you have been worrying that the shop might remain open up today, there is no need to be concerned, we will repair the gate for you today.
Emergency store-front gate repairs Yonkers
There certainly is a huge number of roll down steel doors in Yonkers NY, and the amount is increasing each day. You probably think that each roll down steel doors in Yonkers has only one roll down steel door, and for some of the stores you might be just right. But quite a lot of shops has more than just one roll down steel doors entrance, they may also have a roll down gate, a back door, a security door, cellar doors, and more. And when there is a need for ASAP roll down steel gate repair in Yonkers, this is the time when Vernon's Garage Doors become available. Nearly every morning or night, we get a phone call for ASAP store gate repair in Yonkers. In some urgent situation services, the problem can be solved in half an hour, since the problem is not difficult to solve. And sometime the problem involve specific custom made parts, and for that we will have to order the parts, manufacture them, and then to come back with it to your shop and replace the broken or ruined components. So if we offer ASAP repair service for all kinds of roll down steel doors and all kinds of issues, and we can be anywhere in the Island any time and any day, why would you put yourself in danger and try to fix the problem by doing it on your own? No need for that. And if you have been wondering whether or not to try and repair the door or the gate on you own, bellow you will be able to read a story about an attempt to perform garage door repairs in Yonkers by himself, and almost died during the attempt.
No stuck steel gate worth your safety!
When you need ASAP gate repair, you would like your gate to work again without delay. And this can easily lead you to make an effort to fix the gate by yourself. But here you should know a very important factor: You are taking a risk that can result with injuries. Operating a broken gate, or improper operating of a gate can end with accidents, damage, and with accidents. The wisest thing for you to do in case your gate or your roll up gate is stuck, jammed, or if the gate isn't operating effectively, is to get in touch with Vernon's Garage Doors. As a professional service providers, we have the expertise to deal with any gate repair. We will say again it once again: Only qualified repairman should deal with a broken gate. Damaged or stuck gate is not something you would like to test and guess. Since making a mistake here can end with accidents and injuries. Use an experienced expert for the repair, and make sure that the gate will be safe to open and close again.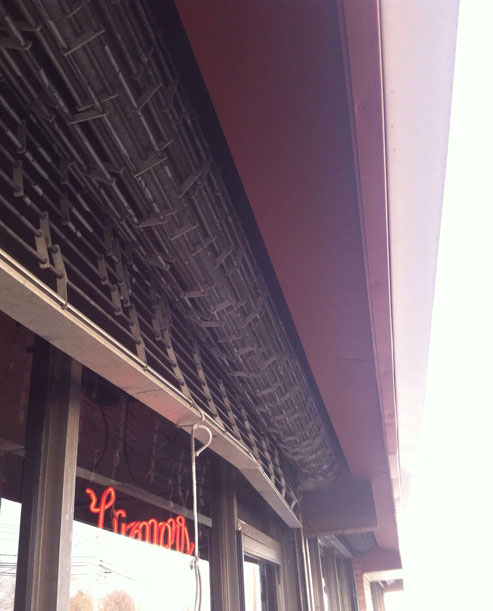 Vernon's Garage Doors, Yonkers, NY
Vernon's Garage Doors isn't limited to just industrial or residential repairs, as a company that proud of being capable to complete different garage doors and gates tasks near Yonkers New York, we believe that when you are a real pro, you should have the ability to handle all kind of tasks, no matter how simple or how complex it may be. Vernon's Garage Doors is one of the companied in Yonkers who offer a range of services. Here's a list of some of the ASAP repairs we offer in Yonkers.
Emergency roll up gate repairs Yonkers.
Emergency garage door repair Yonkers NY.
Emergency Garage door repair Yonkers New York.
Emergency roll down gate repairs Yonkers.
Emergency storefront door repairs Yonkers NYC.
Yonkers steel gates installment.
Storage unit gate repair and installment.
Iron works and welding service in Yonkers.
Storefront door installment Yonkers.
This is just a partial part of the services we provide in Yonkers. Many times we are being asked to assist with complicated projects such industrial overhead door installment, speed doors repairs, or roll down gate installment that require special knowledge and tools. We are ready for that, and with years of experience, we can say that there was never a project we couldn't complete, and that there have been countless ASAP service we provided for roll down steel gates and garage doors near Yonkers New Work.
Gate Installment Yonkers
Since the rolling gates are great solution for store owners who want their business to be secured, but at the same time do not want a gate that will take space from their store, the rolling gates became a perfect solution. If you own a business in Yonkers, just look around you when you walk or drive the streets, and see how many different kinds of steel gates there are. It can be a storefront roll up gate in Mount Vernon NY, a rolling steel door for a warehouse, steel rolling gate, commercial gate, residential swing gate and more. When you are looking to install new gate, whether it is to supply and to install new gate in Manhattan, or new storefront gate Bronx NY, there are few things you should consider before you make a decision which gate to purchase and install. There are many options and designs for new steel gates that you didn't even think to consider (Like a see-through gate, or a push up gate). This is one of the many reasons you need a consultation from a skilled gate expert, which can bring all the possibilities, and will help you to choose the right gate for you. Vernon's Garage Doors supply and install all kinds of steel gates in Yonkers, including commercial roll up gates, rolling gates and more. To schedule an appointment, get in touch with us, and one of our experts will be happy to assist you.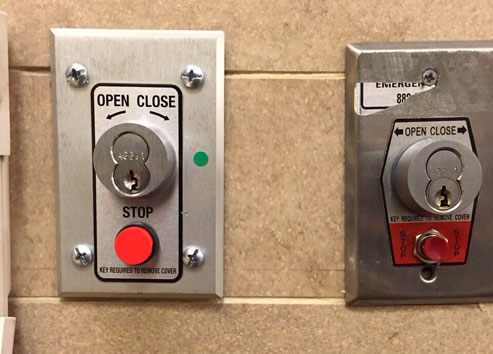 Which Gate to buy?
There are several open questions that need answers in choosing to install new gate, and before making your choice, it is good to research, and learn about steel rolling gates in Yonkers, In this post we are going to try and help you get a much better idea a about roll up gates installment, which are the best roll up gates, which are the more effective, which are the gates that you should avoid, and which steel gates are the gates that can still work and protect your business even after 40 years or more,
From storefront gate installment, through industrial rolling gate, Vernon's Garage Doors got it all. Our team of gate repair and installment experts, will do their best, to help you find the right gate for you. Because Vernon's Garage Doors, Know that when it come to a new gate installment, it is important for us that you will get the gate that will provide you with the protection that every good gate should, and at the same time, the gate should function flawlessly, since a stuck roll up gate in Yonkers that require service, means loss of time and money, and this is something every store owner would probably prefer to avoid. And the key to avoid a stuck roll up gate is to start from the installment, and to purchase a high quality gate.
Conclusions
There is no need to panic in case your gate got stuck. You won't have to spend the night inside the store in order to protect the business, or that you store will remain close the whole day since you can't get the gate to open. With our same day storefront gate repairs in Yonkers, we will be there and fix your broken gate today. We might not be able to complete the repair on first visit, but what we can do is to provide you with a temporary solution, until we will return and complete the repair. If you need a broken gate repair in Yonkers, in Mount Vernon, or anywhere in New York, we can help. Contact us and one of our qualified gate experts will be there and repair the broken gate.
For Gate Repair, Yonkers NY
Call: 914-205-6141